R&D system
Organizational infrastructure to support beauty professionals
We continue to provide quality that is recognized by beauty professionals. To this end, we are establishing an organizational infrastructure that is conducive for the execution of projects that surpass internal boundaries, including collaborations with external research institutes and joint development with salons.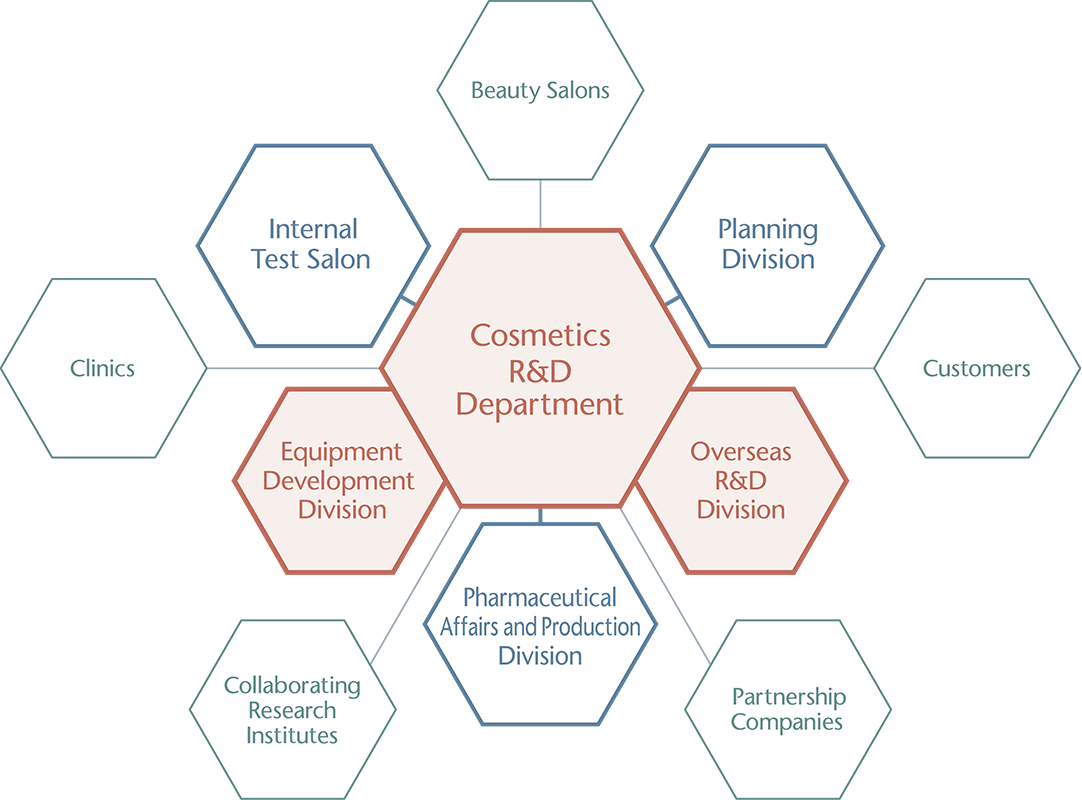 (1) Amassing advanced technologies through open innovation
Based on the concept of open innovation, we are undertaking the fortification of collaborations with external parties, along with our preference for manufacturing craftsmanship. We are doing joint research with universities, collaborating with companies, amassing expertise knowledge, tackling challenging basic research and carrying out product development that will boast speed and high performance.
(2) Joint development with professionals to achieve new beauty
Based on the advice of beauty professionals, including salons and dermatologists, our goal is product development that produces new beauty. This is to fulfill the dreams of professionals. It is also to fulfill the beauty and health needs of the clients who see these professionals. We will continue to undertake the challenge of offering unfettered options and creating a new market.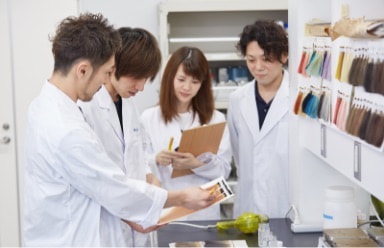 (3) Progress that transcend the organization to enhance techniques and knowledge
At the Cosmetics R&D Center in Shiga Prefecture, we set up what we call the D Room, which is a creative place where the latest information and innovative ideas cross one another. By closing in the physical, time and emotional distance, it is possible to quickly tackle new issues while constantly taking on several transverse products.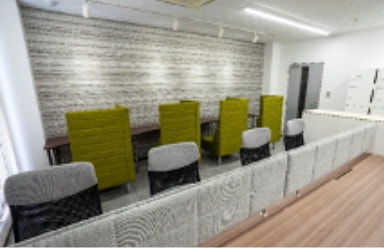 Field of research
Aiming to find solutions for salon work by using science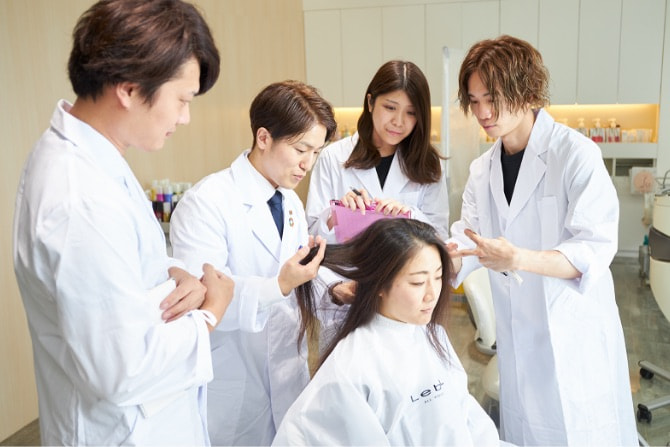 As a company that provides products that support beauty professionals, we are constantly carrying out a wide range of research activities into beauty and health taken from different perspectives. Our research is far-reaching, stemming from basic research that pursues the essence of hair and skin, including hair science and dermatology, and extending to ergonomics related to the comfort of using our products, the study of image which focuses on beauty, and applied research for the development of techniques for salon menus.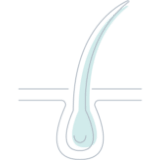 Hair science
Research that extends the inside and outside of hair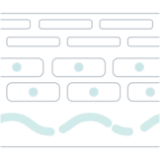 Dermatology
Research into aging and product safety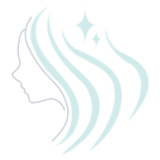 Study of image
What is pursued for the sake of beauty?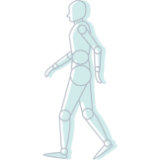 Ergonomics
Research into hairdressing and beauty equipment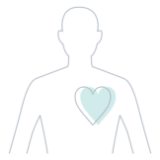 Biological science
Research into the impact cosmetics and hairdressing and beauty technology has on people
Safety initiatives
Clearing strict standards for providing security and safety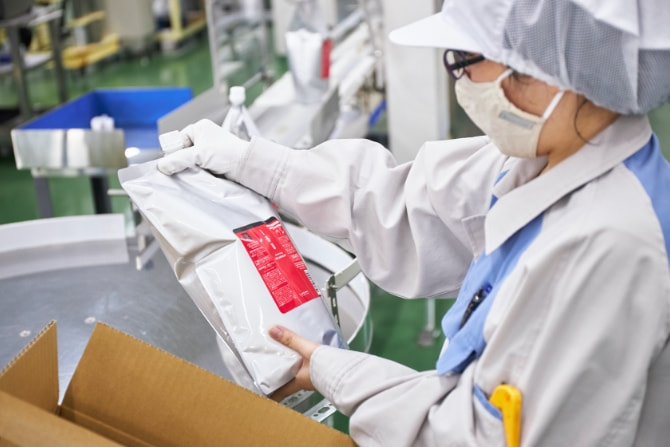 We have established our own strict safety standards, from raw material selection to completion of a commercial product, to ensure that we provide safe and secure products to our customers.
(1) Tackling raw material safety
Cosmetics are made from a mixture of several different raw materials. Our first step is to evaluate the safety of each raw material from various perspectives, based on expert knowledge, technology and experience. We create products using only raw materials that have cleared our safety standards.
(2) Undertaking product safety
Products made only from raw materials that have cleared safety standards then undergo testing in our in-house test salon. Safety evaluations are conducted envisaging actual use and patch tests are implemented at an outside safety evaluation institute. These procedures are conducted for all products under development.
Safety testing using cultured cells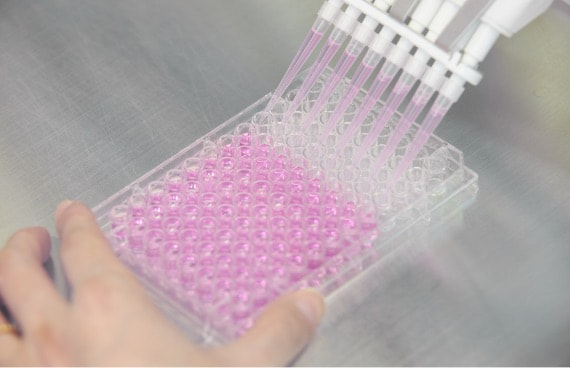 Regarding irritation to the human body caused by raw materials, we have established an environment within our research site that facilitates safety testing* using cultured cells. We are constantly collecting safety data.
This testing method which replaces animal testing is recognized by international public institutions, including the Organisation for Economic Co-operation and Development (OECD).
* Cutting-edge testing method to replace animal testing
Quality initiatives
Activities for the pursuit of high quality from various angles
We pursue different types of quality and continue to make improvements to fulfill the dreams of professionals.
(1) High functional quality that satisfies professionals
To achieve satisfactory product performance in various situations, professional hairdressers and beauticians conduct a trial test of developed test products following verification by monitors. We remake our products several times until we achieve the functional quality we aim for. In certain cases, these adjustments are carried out several thousand times for the product lineup of a single series. This demonstrates our pursuit of full-fledged functional quality.
(2) Consistent raw material quality
We always secure high quality raw materials by continuously researching information. Moreover, we have established a system that captures global conditions in a timely manner, and immediately addresses raw material supply issues. Consequently we are realizing a sustainable supply chain system that stably secures raw material quality and supply sources.
(3) Guarantee storage stability
We thoroughly confirm storage stability by carrying out content stability testing, preservation confirmation testing, and container stability testing for each product to ensure safe use at the hands of customers. In addition, we guarantee regularly assessment of stability is conducted of all manufactured products after they have been stored for a certain period.
(4) Establish manufacturing quality
It is necessary to make detailed adjustments, including establishing the terms and conditions for manufacturing that extend from the prototype up to the completion of the final product. We use actual production facility equipment or mass production prototype that downsize facilities, and collaborate with production-related departments to conduct full-fledged technical verifications. After this phase, we stably conduct manufacturing that aims at producing quality products.
(5) Compliance with laws and regulations
We conform to laws and regulations in Japan and abroad and also to the self-imposed standards of industry groups. Furthermore, we are working to optimize label information by conveying easy-to-understand information concerning warnings and proper methods of use for customers that use our products.
R&D sites of Takara Belmont group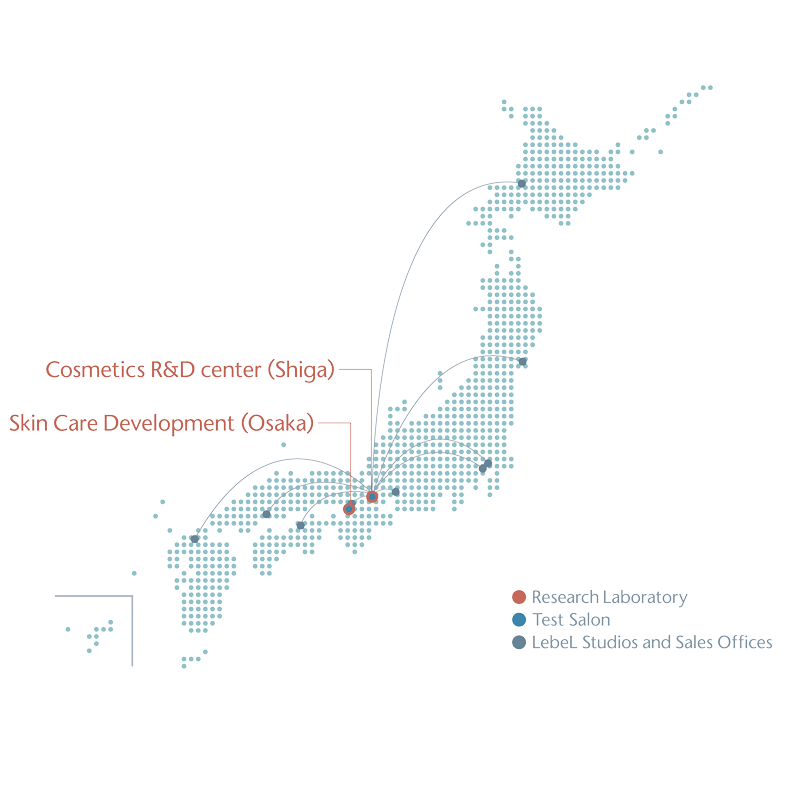 The cosmetics R&D department of Takara Belmont conducts product development and basic research mainly at two domestic sites. Furthermore, Takara Belmont possesses its own proprietary global network. This enables the company to capture information globally in a timely manner, listen to the voices of hair designers worldwide, and utilize these opinions in manufacturing.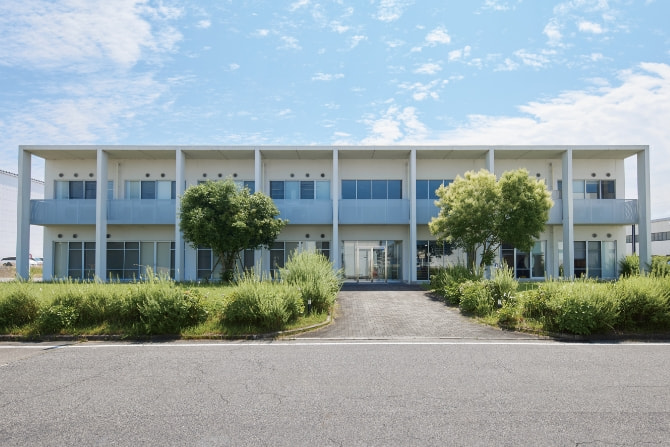 (1) Cosmetics R&D center (Konan City, Shiga Prefecture)
This facility was relocated from Osaka in April 2006. It is the core site of the Takara Belmont cosmetics R&D department. There is an adjacent test salon. This environment enables researchers to confirm the evaluation of products under development in a timely manner.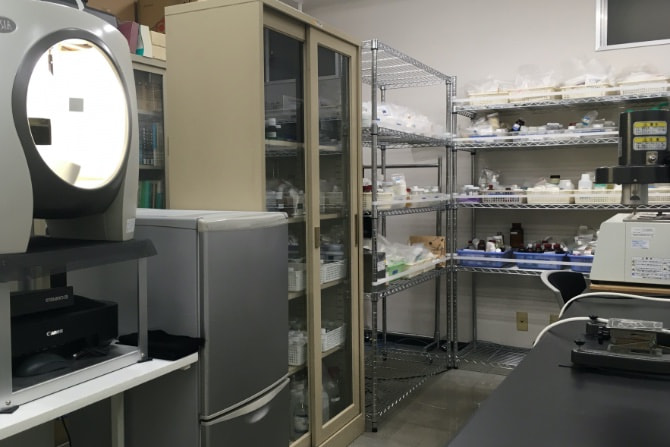 (2) Skin care development (Osaka head office)
This is the site for skin care product development. A skin image analysis counseling system is set up permanently at the Osaka head office. An environment has been put in place to effectively conduct the development and evaluation of skin care products.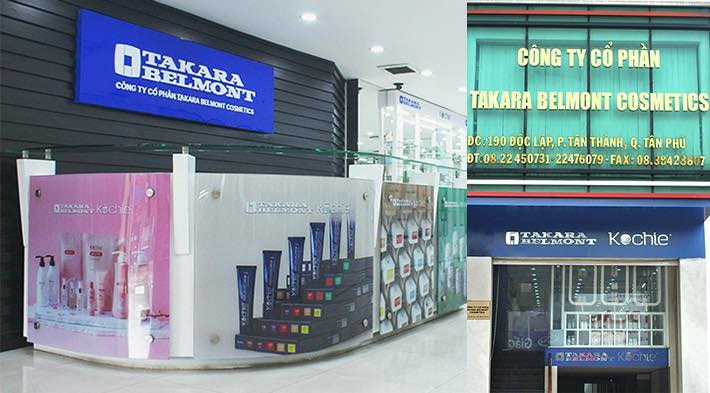 (3) Takara Belmont Cosmetics JSC. (Vietnam)
From 2018, we have been dispatching researchers in each category. These researchers provide guidance on formulation technologies and quality control methods used in Japan. They also work with local staff to develop products for the local market. This company aims to carry out activities, serving as a platform for the development and production of products for overseas markets.
Sustainability initiatives
Coexisting with beauty: What we can do now
R&D at Lebel views the environment as being one component of beauty. Based on this concept, we are contributing to the achievement of SDGs by creating a sustainable society through the reduction of environment impact during the product lifecycle and by developing the salon industry overseas.
(1) Realizing sustainable production and consumption with highly blended formula of naturally derived ingredients
General hair cosmetics also contain oil-based raw materials. Then, LebeL is working on product development that reduces petroleum-derived raw materials. The Moii series does not use oil-based raw materials, a depleted resource. We succeeded in creating a formulation design that only uses naturally-derived ingredients. We carefully select each raw material to maintain quality. The challenge to develop the Moii series using 100%*2 naturally derived*1 reflects the preference for natural products in recent years. The Moii series is winning high praise from the market and is contributing to the creation of a sustainable society.
*1 Most of the ingredients are derived from plants or other non-petroleum materials.
*2 Water not included.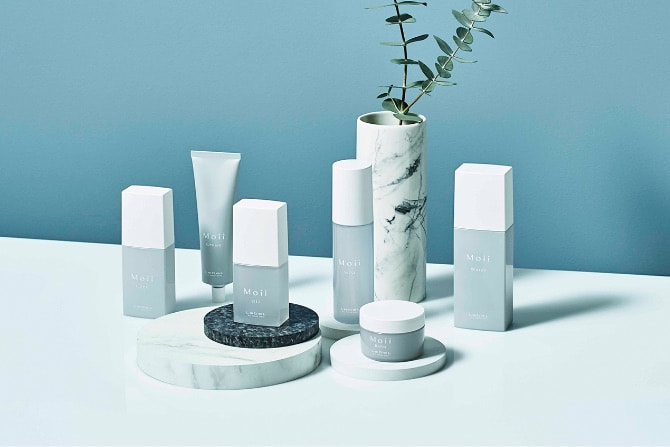 (2) Protection of safe water resources
Water, which is used in a variety of ways in hair and beauty salons, is an indispensable resource. From an early stage, we have been undertaking product design that uses a highly biodegradable surfactant, to protect these valuable water resources. In 1992, we developed the Natural Hair Soap series of acid soap based hair care items. Since then, we have continued to actively conduct R&D pertaining to highly biodegradable surfactant.
In addition, we have promoted research and development to reduce cleaning agents, shortening the rinsing time and achieving a water-saving effect. Through these activities, we are contributing to the protection of safe water resources.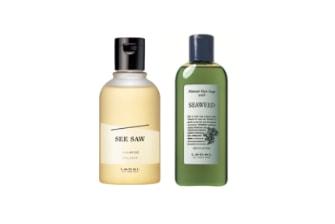 (3) Contributing to the prosperity and improvement of technological expertise in local Vietnamese industries
Lebel dispatches researchers to Takara Belmont Cosmetics JSC. , a local subsidiary in Vietnam, to provide guidance in development and manufacturing technologies nurtured in Japan. Along with local staff, product development is carried out reflecting the results of a survey on the hair type (quality) of Vietnamese people and the needs of these consumers. Kochie, a new brand was launched which integrates hair care, hair coloring and permanent products. Going forward, we plan to contribute to the development of the hairdresser and beauty industry in Vietnam through the creation of innovations.