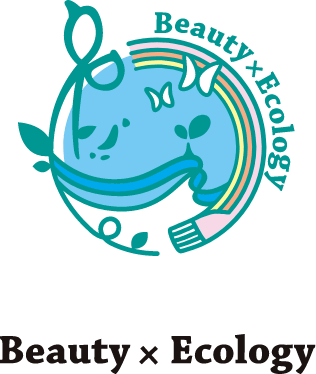 - Coexistance of Beauty -
For the harmony of salon work and global environment.
LebeL considers environmental practice as one of the elements of beauty and will conduct a wide variety of activities.
We will continue to work with beauty professionals for the coexistence of beauty and ecology.
Environmental Management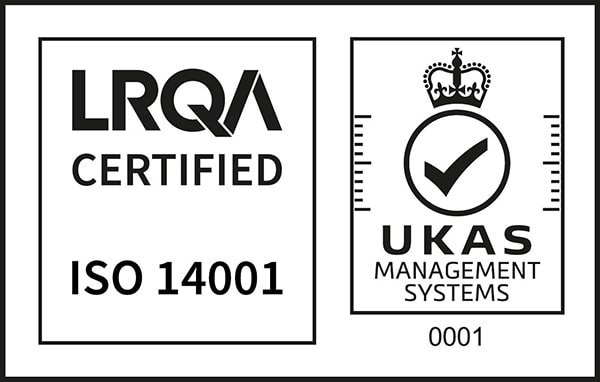 In 2000, we acquired ISO14001 certification, international standards for environmental management systems. Since then, we are proactively engaged in environmental managemant activities at multi-sites (product planning, R&D, manufacture, logistics, sales branches and education activities).
LebeL's approach
Research & Development
Formulation research for developing environmentally friendly products.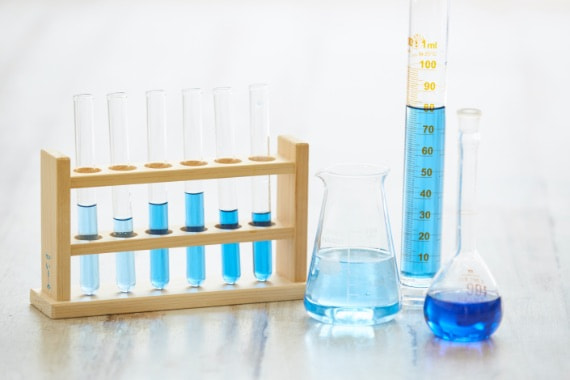 In order to support salons minimize environmental affect of their salon work, Takara Belmont is working on formulation research of developing environmentally friendly products.
While evaluating the environmental affect of ingredients and products, we work on functional improvement and continue to propose more safe and reliable products.
Ingredients
We continue research on biodiversity conservation and recyclable ingredients. We initiatively choose plant-derived ingredients that are environmentally friendly and create an original standard of environmental affect and safeness and expand into products.
Product Development
We assess the environmental affect throughout the product developing process from production to usage and disposal.
We promote the reduction of the life cycle environmental impact of products starting from the research level.
While assessing the functionality and safety during salon work, we continue research on environmentally friendly formulas such as biodegradable and rinse aid formulas that reduce the amount of water use.
Factory
Measures for Reducing Environmental Burden as a Member of the Local Society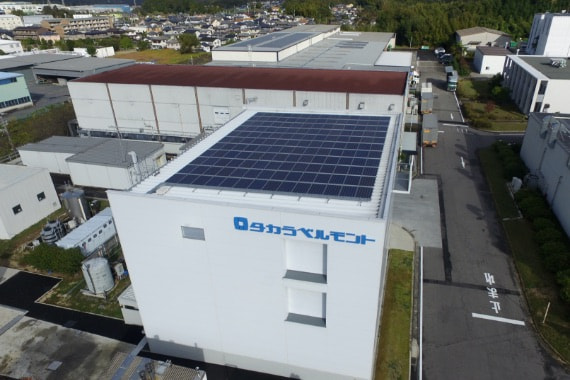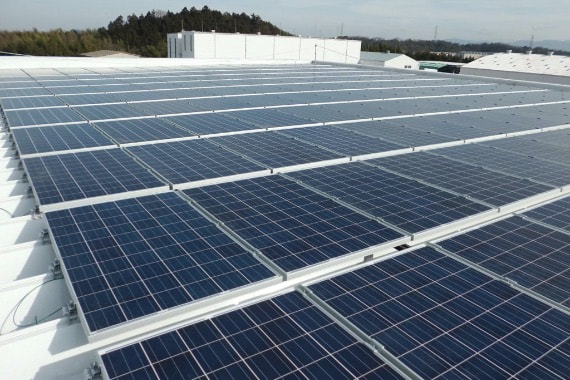 Efforts Toward Carbon-free Society
Takara Belmont Corporation has major factories in the two bases, the Osaka Factory responsible for processing and assembly of mechanical equipment, and the Shiga Factory, which combines R&D, manufacturing, and distribution terminal functions for mechanical equipment and cosmetics. Solar power panels were installed on the buildings at these two bases continuously in FY 2014 and FY 2015. Since then, renewable energy has been generated of approximately 610,000 kWh per year (total AC power result in FY 2017), which exceeds the initial plan. Although the renewable energy alone cannot cover the electric power for the factories, the power company purchases this energy and efficiently supplies it to the region through the power grid. This makes it possible to respond to sudden changes in demand for daytime electricity due to temperature changes as seen in recent years, while suppressing power generation by fossil fuels.
Japan is aiming to raise the zero-emission ratio of renewable energy and nuclear power generation to around 44% of the total electricity by FY 2030 with safety as the top priority, as well as stable supply and environmental compatibility. (According to the FY 2018 Energy Basic Plan)
The Lebel Division agrees to the effort of "Fun to Share" toward the realization of a low-carbon society as part of Beauty x Ecology.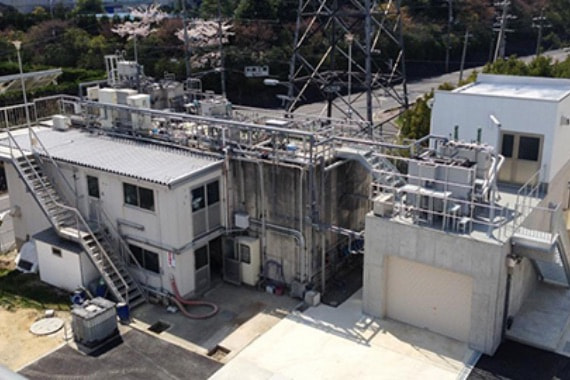 Effluent Treatment Facilities
The cosmetics factory is located in Konan Industrial Park, south of Lake Biwa called the "Mother Lake." Located in Shiga Prefecture, which has strict effluent quality standards, the cosmetics factory introduced an effluent treatment method using microorganisms from early on and expanded it in 2014, according to the operating status of the entire business site. The sludge generated by the effluent treatment goes through a proper manifest management as industrial waste and, at the final disposal site, is recycled as reclaimed materials for cement and subgrade materials. This leads to efforts for reducing waste materials and making them into recycling resources.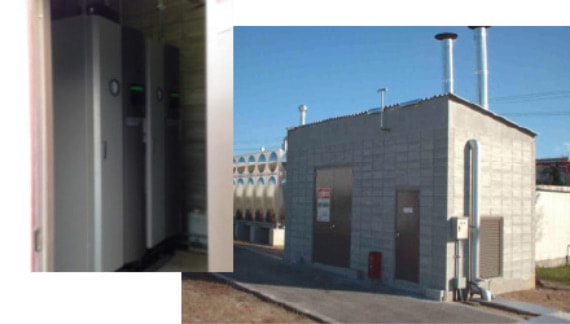 Emission Reduction of Air Pollutants and Effective Use of Resources
The cosmetic factory requires a large amount of steam for the dissolution of raw materials. In addition to switching this boiler heat source to city gas with low emission of air pollutants, a chiller was introduced in the path of the water used for cooling the blending kettle for circulation cooling. Through these efforts, we are striving to more effectively use water resources.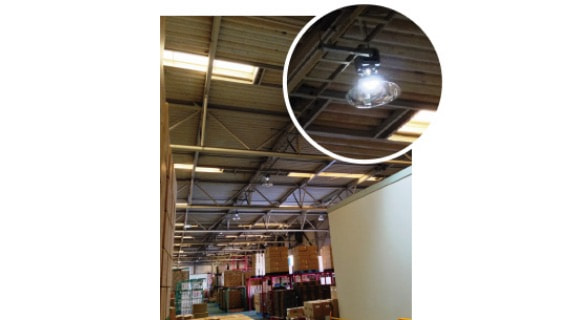 Switching to Energy-saving Lighting
CCFL lighting is introduced to the cosmetics factory office and, for the high ceiling of the cosmetics terminal, electrodeless lighting that can be turned on and off instantly and that consumes a quarter of the power consumption of mercury lamps is adopted. Additionally, 100% of the lighting in the manufacturing department was switched to LED lighting in FY 2018. This not only saved energy but also improved the work environment.
Production
Active Adoption of Paper Package by Self-owned Production Line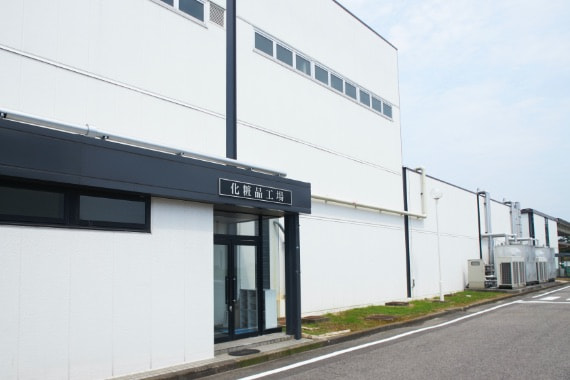 In order to reduce the use of polyvinyl chloride containers, which generate dioxins when incomplete combustion occurs, we introduced a production line that automatically carries out from paper container assembly to perm agent filling in 1999.
Products
Proportion of Environmentally Friendly Products (Eco-products) at LebeL: 79.5%*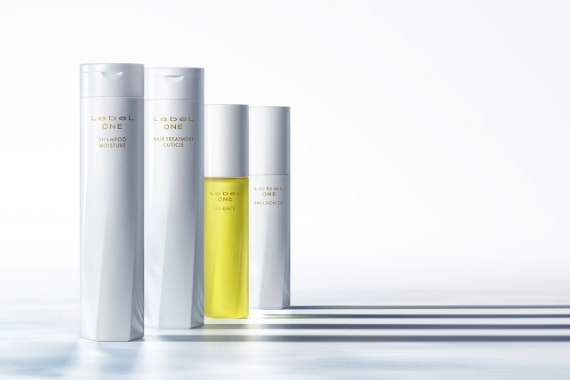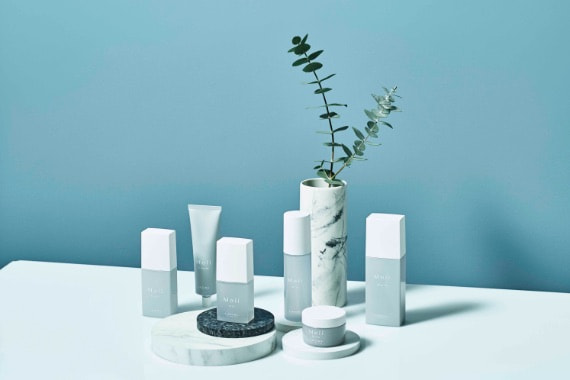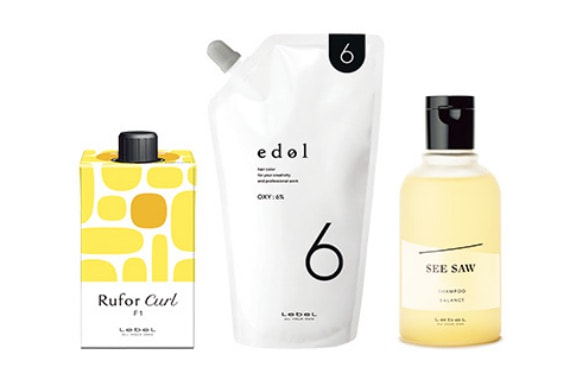 At LebeL, we also keep the environment in mind during product production.
"Environmentally friendly products" refer to products adopting one or more of the following company standards in product planning and development.
* Proportion of the actual result in August 2021
(1) Adoption of material with good biodegradability for water quality environmental conservation
Adoption of material with good biodegradability as a base
(2) Highly composition formulation of naturally derived ingredients that suppresses the use of petroleum-based ingredients
The formula composed more than 90 % mostly of non-petroleum-based ingredients such as plants.
(3) Adoption of refill container
Reduction of plastic weight by adopting refill containers (pouches, paper packs, etc.)
(4) Adoption of biomass plastic
Adoption of biomass plastic in container materials and container parts.
(5) Adoption of recycled material
Adoption of recycled materials (recycled PET, PE, etc.) in container materials and container parts.

Takara Belmont Co., Ltd. original mark showing a package adopting environmentally friendly materials Takara Belmont domestically produced brands will be listed in the corresponding packages one by one.
(6) Adoption of FS® certified paper to protect the world's forests
Adoption of FSC (Forest Stewardship Council/ International NGO) certified paper material in the individual packaging box.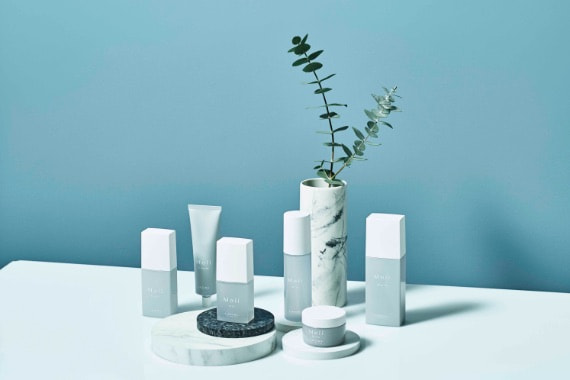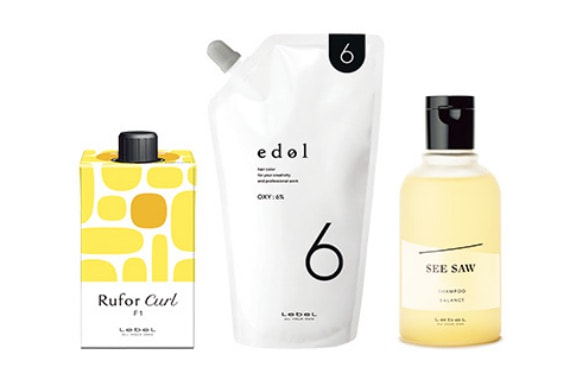 Salon Support Environmental Activities to Consider with Salons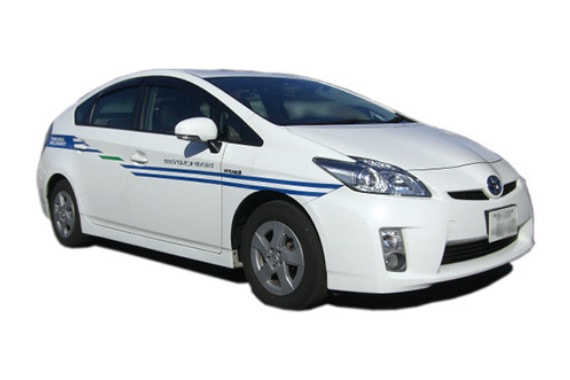 Striving to reduce CO2 through sales activities
At Lebel, we have actively promoted the adoption of hybrid cars from our thinking that if we could reduce the environmental load if only a little when visiting salons. In 2019, more than 90% of sales vehicles were hybrid cars. Additionally, we are striving to reduce CO2 in sales activities by utilizing car sharing in addition to using public transportation in order to avoid congested areas.
Proposing the adequate use of preparations
During lectures, we also recommend the adequate amount of preparations to use
Using reusable bags (eco-friendly shopper)
On July 1, 2020, retailers began charging customers for plastic shopping bags throughout Japan. As we value these limited resources, Lebel also began adopting the use of sustainable, eco-friendly shopper. The primary raw material used in these shoppers is limestone (51% or higher). This sharply reduces the use of pulp (wood) and fossil resources (petroleum) in comparison with conventional paper or polyethylene bags. In addition, the shopper stands up to water, making it optimal for reuse. In light of this, it conforms to the 3R (reduce, reuse, recycle) policy being promoted by the Ministry of Economy, Trade and Industry (METI) and the Ministry of the Environment.
Lebel aims to actively continue to looking into and implementing environmental activities along with salons.
Participation in environmental preservation activities
Sponsoring the Setouchi Olive Foundation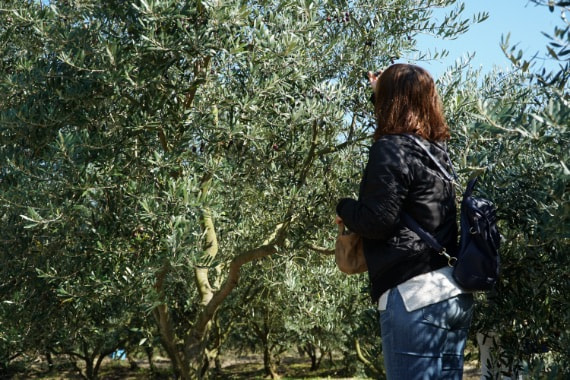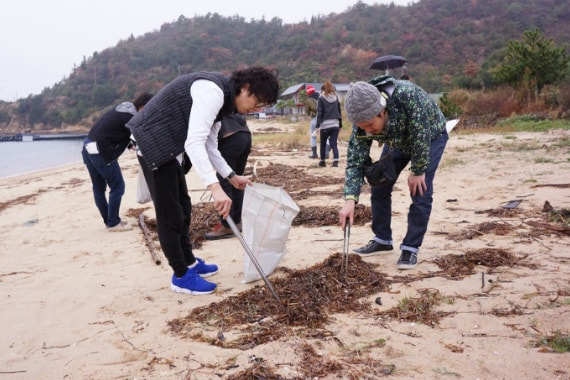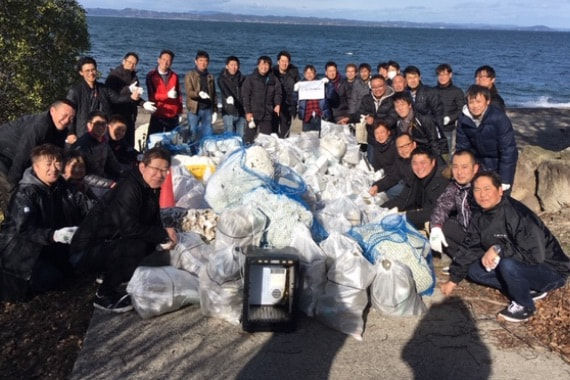 Lebel, which aims to achieve harmony and balance between salon work and the global environment, endorses the Setouchi Olive Foundation, which conducts activities to preserve and pass on the beautiful nature of the Seto Inland Sea. We participate by donating a portion of our sales and through volunteer activities of our employees. From 2014, along salons that support the activities of Lebel, we have been holding the Olive Harvest Festival. During this festival, we and the salons visit the island of Teshima to learn about the Teshima pollution incident and the current condition of the island. We harvest olives from the full-grown olive trees that were planted as a symbol of environmental preservation.
| | |
| --- | --- |
| 2004年 | Commenced sponsorship of the Setouchi Olive Foundation/participated in the planting of olive trees |
| 2014年 | Kicked off the Olive Harvest Festival |
| 2015年 | Held the Olive Harvest Festival/carried out coastline cleaning activities |
| 2016年 | Held the Olive Harvest Festival |
| 2017年 | Held the Olive Harvest Festival/carried out coastline cleaning activities |
| 2020年 | Lebel employee volunteer coastline cleaning event |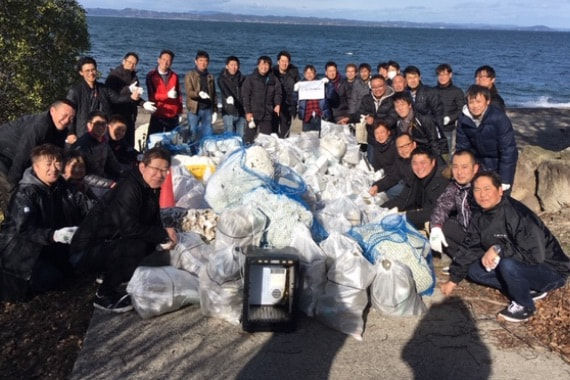 Sponsorship of NPO "Setouchi Olive Foundation"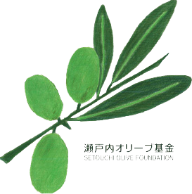 NPO, The Setouchi Olive Foundation works to expand tree-plant campaign begun in the Teshima Island throughout the Setouchi Inland Sea region, pursues environmental conservation, restoration, and creation. Since its establishment in 2000, the goal of the activities being carried out is to protect and restore the beautiful nature of the Seto Inland Sea areas, including subsidizing activities and cultivating olive trees.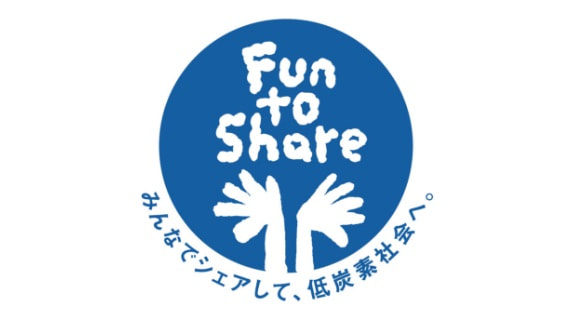 Participation in the Fun to Share program
LebeL participates in the "Fun to Share", a national campaign of CO2 emission reduction.
Fun to Share is a motto to motivate people to work together to create a low-carbon society while having fun sharing the latest knowledge on global climate change policies. The concept is not about people working hard while persevering to reach these goals but aims to enjoy life on a daily basis while creating a low-carbon society.
Environmental policies
Our Environmental Management Philosophy
We recognize and fully share in the international sense of crisis regarding the environment, and intend to move forward proactively with environmental activities aimed at developing a sustainable society in harmony with the natural cycles of the Earth. We pursue environmental activities as taking into account the state of the global environment, technology trends in the environmental preservation and, the quality and degree of environmental impact of our corporate activities and product life cycle.
Hidetaka Yoshikawa, President and CEO
Takara Belmont Corporation
Environmental policy of the Lebel business
As a cosmetics business, we focus on the lifecycle of our products, from planning and development, production, distribution, to the usage and education in beauty salons and all beauty industry-related professionals, and ultimately to their disposal. We work to prevent pollution and reduce waste in all aspects of our business activities, promote the resource conservation and effective use of energy, and as a member of Takara Belmont, aim to continually improve environmental management.
Concerning environmental aspects, we comply with laws, regulations and the codes of conduct, including those of the industry, which we enacted or consent to.
Given the impact our business activities, products and services have on the environment, particularly pertaining to the items below, we recognize the need to prioritize the implementation of environmental activities, set environmental goals for each business annually, and to work to carry out ongoing improvements and sustainable development.

In addition to striving to achieve eco-friendly development that factors in the production phase, use by customers and the disposal phase, we also actively disclose related environmental information.
The Lebel business also promotes the proper management of the chemical substances we use and advocate the use of safer raw materials.
We implement the effective use of resources, including energy, water and raw materials that are provided to production facilities and businesses.
Efforts are made to reduce waste and management emissions, and proper wastewater disposal activities are also undertaken.
We implement green purchasing at each workplace, and procure products and services that have a low impact on the environment.

Through the implementation of environmental education and PR activities, employees that engage in the activities of the cosmetic business gain an understanding of the environmental policy and environmental information made common knowledge. In addition to our goal to improve awareness of environmental preservation, the business also actively supports an environmental improvement movement and environmental preservation activities. Moreover, we are actively proposing environmental preservation among consumers through the hairdressing and beauty industry.
July 1, 2021
Environmental CEO
Takara Belmont Corporation
Masaru Saitou, Senior Executive Officer